Visit the interior of the submarine P-913 (reservation required)
NOTICE:
We would like to inform our visitors that starting with 3 July 2021, it will once again be possible to take a guided tour of the interior of the P-913 submarine. PRIOR BOOKING IS MANDATORY and the tours are limited to small closed groups.
Tours of the P-913 submarine are guided and operate under a special system due to the specific safety precautions. A guided tour is possible for closed groups that meet the RVT conditions and lasts up to 30 minutes. It is not possible to do this tour without purchasing a museum ticket. Combined tickets can be purchased according to the current price list. Due to the great demand and the corona restrictions, prior booking is MANDATORY. To book, call +38631775002 or write to us at info@parkvojaskezgodovine.si.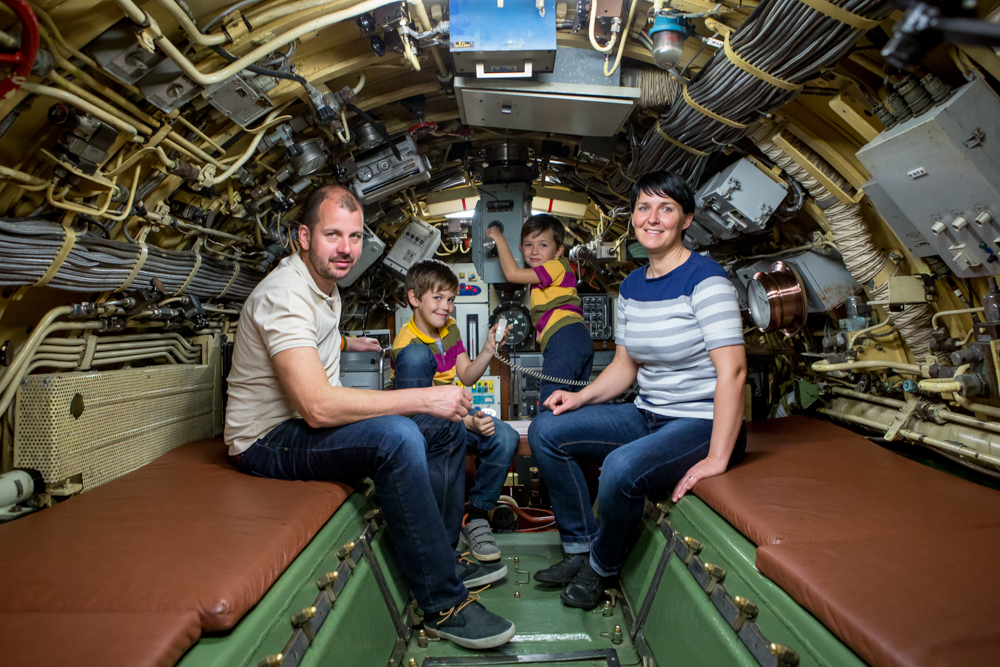 ***
The P-913 submarine was part of the project of building Una-class submarines for the fleet of the then Yugoslav Navy. In the 1980s, the navy came to the conclusion that larger submarines were not suitable for executing a variety of tasks and they were also searching for a more economical approach to enlarging the submarine fleet. In total, six submarines were built and they were all named after rivers from each of the socialist republics in Yugoslavia. The Zeta submarine was built in 1985 in the Brodosplit Special Objects Shipyard in Split. The main task of these pocket or commando submarines was mainly the transportation and support of marine commandos.
The P-913 Zeta submarine represents an incredible example of technical heritage, standing as a testament of the human ability to operate in the difficult conditions of the ocean's depths. It is also part of our own technical history as the submarine in the Park of Military History allows school and other groups as well as individuals to learn about the amazing contribution of Slovenian knowledge and industrial potential in designing and building submarines as well as the life stories of many Slovenian submariners who served in the Austro-Hungarian, Italian and both Yugoslav navies. Many Slovenian submariners reached the highest military ranks and the number of Slovenians among submarine commanders in the Yugoslav Navy was disproportionately high.
Technical data:
Length: 19.7 m
Width: 2.7 m
Height: 3.7 m
Weight: 76 t
Depth: 105 m (operating), 130 m (design), 182 m (calculated)
Speed: 8.2 knots (maximum submerged), 6 knots (maximum surfaced)
Crew: 4 mine layers + 6 marine commandos with full gear
Armament: 4 AIM-70 or M82 naval mines, 4 underwater scooters with 6 M66 or M7 naval mines